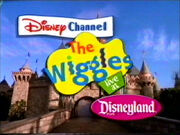 The Wiggles Live at Disneyland Park is an Australian television special aired on Disney Channel Australia on December 20, 1998. Some people say that this special marked the first appearance of some new people on Disney Channel called The Wiggles established in 1991. They are Greg, Murray, Jeff and Anthony.
The Australian Disney Channel staff filmed this entire special in Disneyland, including some of their live performances at the Fantasyland Theatre. Some people say that in the special, the Wiggles are on a Mickey Mouse search party.
Songs
Rock-a-Bye Your Bear
Can You (Point Your Fingers and Do the Twist?)
Hot Potato
DOROTHY (My Favorite Dinosaur)
Dorothy (Would You Like to Dance?)
Wake Up Jeff!
We're Dancing with Wags the Dog
Quack Quack
Henry's Dance
Wiggly Medley
Video
Ad blocker interference detected!
Wikia is a free-to-use site that makes money from advertising. We have a modified experience for viewers using ad blockers

Wikia is not accessible if you've made further modifications. Remove the custom ad blocker rule(s) and the page will load as expected.