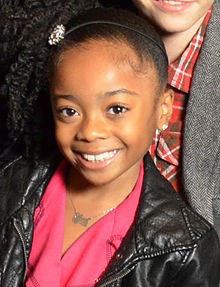 Skai Marie Jackson
(born April 8, 2002) is an American actress. She is best known for playing various roles in the movie the Smurfs and the commericial Band-Aide. She currently co-stars as Zuri Ross in the Disney Channel series Jessie.
Career
Skai Jackson was born in New York City.[2] She began her career as a child model appearing in numerous national commercials, including for Band-Aid bandages.[2] Her first major acting role was in the independent film Liberty Kid (2007). Followed by other films such as Rescue Me (2008) and The Rebound (2009). In 2009, she was cast member of the Nickelodeon pre-school animated series Bubble Guppies playing role of Little Fish. From 2010 to 2011 she guest starred in the television series Team Umizoomi, Royal Pains and Boardwalk Empire. She also had small role roles in the 2011 films Arthur and The Smurfs.[3] In 2011, she was cast as Zuri Ross in the Disney Channel sitcom Jessie starring Debby Ryan.[2]
Filmography
 
Year
Title
Role
Notes
2007
Liberty Kid
Destiny - age 3
Independent film
2008
Rescue Me
Little Girl
Short film
2009
[[The Rebound
Museum Little Girl #1
Theatrical film
2009–2010
Bubble Guppies
Series regular
2010
Team Umizoomi
Kayla
Episode: "The Rolling Toy Parade"
2010
Royal Pains
Maddie Phillips
Episode: "Big Whoop"
2011
Arthur
Little Girl
(uncredited)
Theatrical film
2011
The Smurfs
Kicking Girl
Theatrical film
2011
Boardwalk Empire
Aneisha
Episode: "What Does the Bee Do?"
2011–present
Jessie
Zuri Ross
Main Role; Disney Channel Original Series
2013
The Watsons go to Birmingham
Joetta Watson
Hallmark Channel film
Gallery
To see a Skai Jackson gallery, click here.
Ad blocker interference detected!
Wikia is a free-to-use site that makes money from advertising. We have a modified experience for viewers using ad blockers

Wikia is not accessible if you've made further modifications. Remove the custom ad blocker rule(s) and the page will load as expected.