Pumbaa is a star in
Timon and Pumbaa
.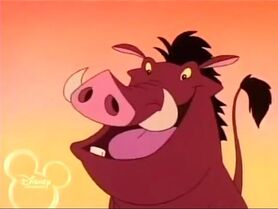 In the television series, he and Timon are once again the main characters, and are shown to travel a lot and had many adventures. These adventures are usually due to the fact that Pumbaa always wants to do the right things all the time. In the series, Pumbaa seems to, as usual, be the brains of the duo while Timon thinks and tells that he is. In the show, it's also shown that Pumbaa is very popular among the jungle and usually gains the chance to live the glamorous life, but gives it up for Timon.
Two episodes revealed that Pumbaa's last name is Smith. This was likely meant as a joke due to how incredibly common Smith is as a surname. Pumbaa was also a member of a group of warthogs but by the time he was fully grown he was banished because of his smell, which was apparently appalling even by warthog standards (similar to how Pepe Le Pew's stench is often shown to be by skunk standards).
In the television series, Pumbaa had an uncle whose name was Boaris, and lived in Russia. Apparently, Boaris was really good at ballet, but then, because of Timon, he fell on fish eggs and went to the hospital and Pumbaa was dancing the ballet, but he broke his leg, then Uncle Boaris comes to dance. Pumbaa also had a deceased uncle named Ernie, who told him that he had to believe in himself to catch bugs.
Ad blocker interference detected!
Wikia is a free-to-use site that makes money from advertising. We have a modified experience for viewers using ad blockers

Wikia is not accessible if you've made further modifications. Remove the custom ad blocker rule(s) and the page will load as expected.