PopPixie is an English animation television series The show features magical creatures such as pixies, elves, gnomes and magical animals who all live in a small village called Pixieville.
The village is fed from the Tree of Life, an ancient tree that provides the Pixie's MagicPop, globes that contain positive magic of Special Talent. Each Pixie has a special talent and when she uses it for the benefit of others and in the right way, they will receive a MagicPop and becomes a PopPixie. The enemies of the Pixies are the Elves which combine jokes and trouble within their village.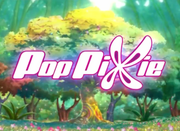 PopPixie Coming February 2018 On Disney Channel.
Ad blocker interference detected!
Wikia is a free-to-use site that makes money from advertising. We have a modified experience for viewers using ad blockers

Wikia is not accessible if you've made further modifications. Remove the custom ad blocker rule(s) and the page will load as expected.