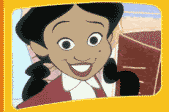 Penny Proud is the daughter in the main family in the Disney Channel television, The Proud Family.
Character Information
Penny Proud is the protagonist and the 14-year-old African-American girl who is usually embarrassed by the way her father, Oscar, acts. She enjoys hanging out with her friends, even though they have gotten her into trouble, and left her to face danger by herself many times.
She sometimes listens to and always respects her parents, but often caves in to peer pressure. She is also a feminist at times, and is very logical. She is a very talented singer as shown when she becomes a solo singer for Wizard Kelly productions but quits after missing her old life.
Penny's a straight "A" student, a member of the Football team and the newspaper staff. Penny tried out for cheerleading, but due to having an accident LaCienega got the last spot on the cheerleading squad. Penny is also good at reciting poetry and becomes jealous when Dijonay becomes just as good as her.
In "The Proud Family Movie," Penny turns 16, and she begins to want independence, but her father has issues letting her go. She saves the world and makes up with him, and he finally realizes she's her own person who can make her own decisions.
Ad blocker interference detected!
Wikia is a free-to-use site that makes money from advertising. We have a modified experience for viewers using ad blockers

Wikia is not accessible if you've made further modifications. Remove the custom ad blocker rule(s) and the page will load as expected.