Monte Carlo is a 2011 American romantic comedy film directed by Thomas Bezucha. Denise Di Novi, Alison Greenspan, Nicole Kidman, and Arnon Milchan produced the film for Fox 2000 Pictures and Regency Enterprises. It began production in Harghita, Romania on May 5, 2010.
Monte Carlo stars Selena Gomez, Leighton Meester and Katie Cassidy as three friends posing as wealthy socialites in Monte Carlo, Monaco. The film was released on July 1, 2011. It features the song "Who Says" by Selena Gomez & the Scene and numerous songs by British singer/songwriter Mika.
Summary
Grace bennett is a texas high school student who works as a waitress with her best freind emma perkins to earn money for a trip to paris after graduation. Grace's stepfather pays for her stepsitster meg kelly come with them on the trip, emma goes to paris despite her boyfreind owen's proposal of marriage.
after being left behind by their tour guide, the three girls seek refuge from the paris rain in a posh hotel. there, the hotel staff and paparazzi mistake grace for celebutante british heiress cordelia winthrop scott, Grace's double, who leaves rather than stay to attend an auction for a romanian charity for which she is to donate an expensive bulgari necklace. the americans spend the night in cordelia's suite, and the next day fly to monte carlo with corddelia's luggage.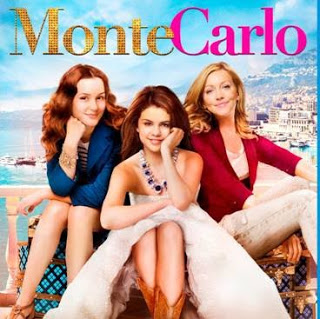 at monte carlo the girls meet theo marchand, the son of the philanthropist hosting cordelia. theo dislikes cordelia's spoiled nature but escorts them to a ball, where grace successully fools cordelia's aunt alicia and emma dances with a prince. meg reunites with riley, an australian backpacker she briefly met in paris. they find they have things in common, and spend time together before he leaves for italy.
Ad blocker interference detected!
Wikia is a free-to-use site that makes money from advertising. We have a modified experience for viewers using ad blockers

Wikia is not accessible if you've made further modifications. Remove the custom ad blocker rule(s) and the page will load as expected.