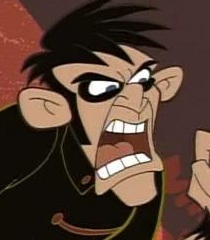 Monkey Fist is a minor/recurring villain that appear inthe 2002 television series Kim Possible. He is voiced by Tom Kane, who is well known for voicing Mr. Herriman from Foster's Home series. In Alvin and the Chipmunks: Trust and Betrayal, he was briefly mentioned in Brittany Miller's second alternate biography.
Ad blocker interference detected!
Wikia is a free-to-use site that makes money from advertising. We have a modified experience for viewers using ad blockers

Wikia is not accessible if you've made further modifications. Remove the custom ad blocker rule(s) and the page will load as expected.