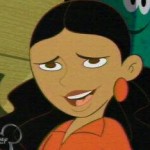 Monique is
Kim Possible
's best friend. She serves as a conversation friend for subjects Ron has no interest in. She has a no-nonsense attitude, a good eye for fashion, and a good heart. Monique is voiced by Raven.
Her surname has never been revealed, probably as a nod to her voice actress, Raven-Symoné, who is generally known by just her first name.
The character's design has evolved through the seasons, with the most notable change being to her eyes. In Season 1, when she first met Kim, she had small pupils, but starting from Season 2, her eyes became wider and fuller.
She is a close friend of Kim's, and by far one of the most "normal" people in Kim's life.
Ad blocker interference detected!
Wikia is a free-to-use site that makes money from advertising. We have a modified experience for viewers using ad blockers

Wikia is not accessible if you've made further modifications. Remove the custom ad blocker rule(s) and the page will load as expected.