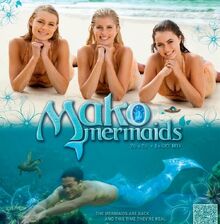 Mako Mermaids is an Australian television program for children, pre-teens and teenagers, and is a spin-off of H2O: Just Add Water. The series, announced in July 2011, is produced by Jonathan M. Shiff in association with Nickelodeon. The show was originally titled Mako: Islands of Secrets, but was later changed to Mako Mermaids. Then the title changed again to Secret of Mako Island and back to "Mako Mermaids" again.
Disney Channel (US) has picked up the series, and the pilot aired on January 18, 2016 at 5pm (Eastern).

"And that is why I will never wear suspenders in public." This article is being worked on by Ferb, but he needs your help. So, while he's busy surfing at the backyard beach with Phineas, you can edit this article for him. Be sure and add lots of information, check your spelling, and add LOTS of information! He could realy use your help. Also, remove the infobox when done and remove the category:stub at the bottom of the page. Thanks for your help!
Ad blocker interference detected!
Wikia is a free-to-use site that makes money from advertising. We have a modified experience for viewers using ad blockers

Wikia is not accessible if you've made further modifications. Remove the custom ad blocker rule(s) and the page will load as expected.