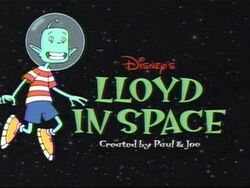 Lloyd in Space is an animated television series, created by Joe Ansolabehere and Paul Germain (creators of Recess), and released in 2001 on ABC-TV on Saturday mornings. The pilot was written by Ansolabehere, Germain and Mark Drop. The characters were designed by Eric Keyes.
Plot
Living far in the future, shortly after the end of World War IX, Lloyd Nebulon is a green-skinned alien (of the Verdigrean race) with strange ears and a single antenna sticking from his head. Lloyd lives in the Intrepidville Space Station along with his telekinetic and telepathic sister Francine and his mother, Commander Norah Li Nebulon, the Head of Intrepidville.
Lloyd's friends are Eddie R. Horton (a red-haired teenage human), Kurt Blobberts (an enormous purple blob with a single eyeball and simple intelligence, of a species known as the Blobullons), and Douglas McNoggin (a giant brain with arms, feet, eyes and a mouth, of a species known as the Cerebellians).
External Links
Ad blocker interference detected!
Wikia is a free-to-use site that makes money from advertising. We have a modified experience for viewers using ad blockers

Wikia is not accessible if you've made further modifications. Remove the custom ad blocker rule(s) and the page will load as expected.