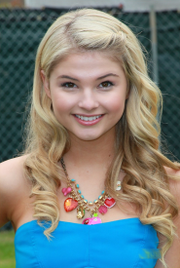 Lexi is the captain of the cheerleading squad, the popular girl, and Chyna's enemy. In the episode "America Needs TalANT" she tries to learn what song Chyna is singing, so she can do it better and sabotage her chance of winning. In another episode, she makes Chyna join the cheerleading squad so she can sabotage her audition for the school play. Lexi is portrayed be Stefanie Scott.
Bio
Lexi has been the star of the school play ever since she got to high school. She has won various beauty pagents throughout the years. She always wins Student Body President. She always as a love for looking at her self in the mirror.
Significant People
Lexi's best friend is Paisley, another cheerleader who is a little dimwitted. She has been known to do things with Chyna's brother Camron a lot. She dislikes all of the ANTs, and as Student Body President, she makes sure they aren't allowed in any school dances or other activities.