Kyla Alissa Pratt (born September 16, 1986) is an American actress and musician. She is credited as Kyla A. Pratt.
Biography
Early life and acting career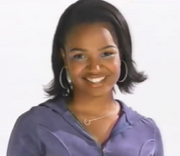 Pratt was born in Los Angeles, California, the eldest of five children of Kecia Pratt-McCullar, a schoolteacher, and Johnny McCullar, a semi professional basketball player.[2][3] She began acting at age 8, appearing in commercials for an interactive computer game and Nike.[4] Pratt made her television debut in 1995 when she appeared as Mindy in Barney & Friends.[5] The following year, she guest starred in an episode of Friends, followed by roles in Smart Guy, Family Matters, Lizzie McGuire, Moesha, and The Parkers.
In the 2001, she won the role Breanna Barnes in the UPN series One on One (2001-2006). During the run of One on One, Pratt also voiced Penny Proud, a character in the Disney Channel animated series The Proud Family. She also voiced the character for the The Proud Family Movie in 2005. In addition to television roles, Pratt has also appeared in several feature films including Love and Basketball (2000), Dr. Dolittle (1998), and Fat Albert (2004). She was Maya Dolittle in Dr. Dolittle 3. In 2008, she reprised her role as Maya Doolittle in the direct-to-dvd releases of Dr. Dolittle: Tail to the Chief and Dr Dolittle Million Dollar Mutts.[6] In 2009, Kyla Pratt co-starred along Emma Roberts and Jake T. Austin in "Hotel for Dogs".
Singing career
As a member of the Disney Channel Circle of Stars, Pratt performed a cover version of "Circle of Life" that appeared on the Disneymania 2 album. She also sang "It's All About Me", for the The Proud Family series soundtrack. She is currently working with Marcus Johnson on a studio album.
Filmography
Award nominations
Year
Award
Result
Category
Film or series
1999
Blockbuster Entertainment Awards
Nominated
Favorite Supporting Actress - Comedy
Doctor Dolittle
Young Artist Award
Best Performance in a Feature Film - Supporting Young Actress
Doctor Dolittle
NAACP Image Awards
Outstanding Youth Actor/Actress
Doctor Dolittle
2002
Outstanding Youth Actor/Actress
Dr. Dolittle 2
2003
Outstanding Performance in a Youth/Children's Series or Special
The Proud Family
2004
Outstanding Supporting Actress in a Comedy Series
One on One
Outstanding Performance in a Youth/Children's Program
The Proud Family
2005
Outstanding Performance in a Youth/Children's Series/Special
The Proud Family
2006
Outstanding Performance in a Youth/Children's Series or Special
The Proud Family Movie
References
External links
Ad blocker interference detected!
Wikia is a free-to-use site that makes money from advertising. We have a modified experience for viewers using ad blockers

Wikia is not accessible if you've made further modifications. Remove the custom ad blocker rule(s) and the page will load as expected.