JONAS, previously promoted as "J.O.N.A.S.", is a Disney Channel Original Series created by Roger S. H. Schulman and Michael Curtis, starring the Jonas Brothers
The brothers appear as the "Lucas Brothers", the three members of the fictional band "JONAS" who try to live a normal life in the face of stardom.[1]
The pilot was filmed in 2007 but because of the 2007–2008 Writers Guild of America strike, the series was put on hold. The original shooting date had been set in January 2008, but was pushed back to September 2008.The series premiered on Disney Channel on May 2, 2009, and became available on demand starting April 25, 2009.
JONAS is the first Disney Channel Original Series (DCOS) since Phil of the Future not to be filmed before a live studio audience or to have a laugh track.[2] The series was the first on the network premiere on a Saturday night, part of a deliberate strategy by Disney to open up the night to original programming and compete with Nickelodeon's traditional dominance of the evening.[3] The series is set in New Jersey and shot at Hollywood Center Studios.[1][4]
Music
Main article: Jonas Brothers discography#JONAS
Conception
Kevin, Joe, and Nick Jonas are also members of the grammy-nominated American pop boy band Jonas Brothers. The Jonas Brothers first appeared as actors on the Disney Channel as guest stars on the August 17, 2007 episode of Hannah Montana.[5] Shortly after, development for a TV series and Disney Channel Original Movie called Camp Rock starring the Jonas Brothers began.
The potential TV series was entitled J.O.N.A.S., an acronym which stood for "Junior Operatives Networking As Spies". In the show, the band played concerts as a cover while working as government secret agents to save the world. At the same time, they tried to hide their double lives from their mother and Frankie.[6] Meanwhile, Stella, ignorant of the Jonas' double lives, dated each of the famous brothers without informing the others and reported the details in her teen magazine column. Said Staub, "So pretty much the entire show, it's all of us lying to each other, and kind of everything backfiring, and us getting caught in awkward situations."[7] She described the concept as, "like The Monkees and a little of bit of Mr. & Mrs. Smith. There's going to be fun action sequences and still be a sitcom."[8].
The J.O.N.A.S. pilot was shot in 2007, but the 2007–2008 Writers Guild of America strike impeded progress. Instead, Disney Channel filmed a mini reality show, the 2008 Disney Channel Original Short Series Jonas Brothers: Living the Dream, which followed the Jonas Brothers on a concert tour and premiered May 16.[9] A few weeks later on June 20, 2008, the Disney Channel Original Movie Camp Rock, in which the brothers starred as the fictional, non-fraternal band "Connect Three", debuted.[10] The Jonas Brothers also released Jonas Brothers: The 3D Concert Experience, a Disney Digital 3-D concert film.[11] "After this rush of releases, the Jonas Brothers became too popular to imagine them as anything but more dramatic versions of themselves," explained executive producer Michael Curtis.[12]. "The spy concept was very big and very ambitious and it started to not feel quite right. As the band got bigger and bigger, doing a show that captured more of their real lives and trying to turn that into a more grounded, real version of what they might be doing became more interesting to do and more fun to do." [13]. "It is now about us being a band and balancing a normal life," Nick Jonas told Access Hollywood.[14] The title of the series changed from J.O.N.A.S. to JONAS, dropping the acronym but remaining in all capitals.[15]
Producers have drawn connections between JONAS productions by older bands. Creator and producer Roger S. H. Schulman claims that "It's hard not to make parallel comparisons to The Beatles in 1962 and 1963 when you see the kind of response that the Jonas Brothers' fans have to them," and describes the 1964 A Hard Day's Night and 1965 Help! as "very much a template" for the series.[13] Producers and critics have also compared the series to The Monkees, a short-lived mid-60s television comedy also following a real life band. At the Television Critics Association winter press tour in January 2009, entertainment presidents of Disney Channels Worldwide, described "JONAS" as a cross between "The Monkees" and "Flight of the Conchords".[13] The Chicago Sun Times remarks that Joe Jonas parallels "goofy Micky Dolenz", Kevin Jonas "quirky Michael Nesmith", and Nick Jonas "dreamy Davy Jones".[16] The Jonas brothers reportedly watched episodes of The Partridge Family and The Monkees "for literally three days straight" for inspiration.[14]
Critical Reception
JONAS has received mixed reviews since its premiere in May 2009. Ken Tucker of Entertainment Weekly called the show "The Monkees for millennials" and enjoyed the featured Jonas Brothers music. Variety magazine reviewer Brian Lowry believed that Jonas Brothers' adorers would be pleased with the result, and that those who are not fans would still find an amiable charm within the series.[17] Paige Wiser of the Chicago Sun-Times found the series better than Hannah Montana, but commented that Nick Jonas' reserved nature made him the weak link of the premiere episode and that the boys' amateur acting is "endearing until they play a scene opposite someone with real comedic timing -- like John Ducey."[18] New York Times' John Carmanica was also disappointed with Nick's performance, particularly because, according to Carmanica, he gives off the savviest air in the band's off screen life. Carmanica also criticizes the series' script as blithe, unfunny, and "seeded with profound cynicism", but did praise the believable fraternal interactions and Kevin Jonas' acting.[19]
DVD Release
Walt Disney Studios Home Entertainment released a DVD compilation, JONAS: Rockin' The House on September 22, 2009 and featured five episodes from the series including two never-before aired episodes and a special feature titled You've Just Been Jo' Bro'd: Surprising Chelsea Staub.
Awards
Soundtrack
Tracklisting
A soundtrack release has been confirmed but there is no current release date. 2 more songs will be featured on the soundtrack that haven't been heard yet but will be featured in future episodes of season 1.
Cast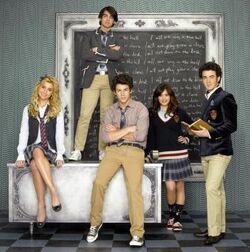 Main cast
Kevin Lucas (Kevin Jonas):
Kevin is the oldest of the brothers and is usually seen as wacky, wild, and goofy. Kevin is known to think outside of the box and always thinks of wacky animals, like an otter that can play the trumpet or a bear in a bikini. Kevin often comes up with plans that are insane or impossible but occasionally also has some good ideas. When he lies, his voice tends to be high pitched. He owns a full moving rack of guitars and likes woodland creature stuffed animals. He does back-up vocals and Lead Guitar in the brother's band JONAS.
Joe Lucas (Joe Jonas):
Joe is known as the teen heartthrob of the group. Joe will go to any lengths to get a girl to like him. He and Stella know that they like each other but decide not to go out because they don't want to mess up their friendship if they break up. But he still has feelings for her, and is always trying to spend time with her, unless his brothers annoy him to measures, to which Joe avoids Stella. Because of this, he often flirts with Stella as a result of falling in love with her. He tends to be goofier than Nick but not quite as out there as Kevin. Joe likes stuffed animals that make noise. He sings Lead Vocal and plays Keyboards and Rhythm Guitar for the brothers' band JONAS. He often has a hammerspace pocket or backpack, when looking for stuff. He always carries a blue panda pencil with him. Joe tends to have stage fright when he is playing as someone else.
Nick Lucas (Nick Jonas):
Nick is the calm and collected member of the band. He is known to have many short-lived relationships, and his family has criticized him for falling in love too fast. Nick is the most serious of the group, sometimes losing patience with Kevin's antics. Apparently, he is 3 IQ points shy of genius. Nick likes stuffed animals that swim. Nick is the band songwriter and performs lead vocals, drums, piano, and Rhythm guitar for JONAS. When he was a baby, according to his family, he never smiled. He claimed he was waiting for his teeth to come in. (However, when asked by Joe what his excuse is now, he did not have a comment.) Nick is also the mastermind of creative plans gone awry.
Stella Malone (Chelsea Staub):
Stella is JONAS's stylist. She is best friends with Macy and is Joe, Nick and Kevin's childhood friend, she has known the boys since she was three. Stella and Joe know they like each other but they decide not to date because they don't want to mess up their friendship if they break up, but still considers a romance with him because she gets jealous if she sees Joe with another girl. In a recent episode, Stella might have discarded her feelings for him when she pictures how their relationship might turn out. Stella created an automated outfit selector called the Stellavator and is constantly trying to adapt clothes to JONAS's hectic lifestyle. She gets annoyed when her outfits get ruined, which happens more than she'd like. She is addicted to texting. Stella also helps Macy talk to JONAS without hurting them or fainting. Unlike her best friend who is wonderful at sports, Stella is horrible at them. She is, however, an excellent seamstress, one time creating a dozen girls' volleyball uniforms in a very short span of time.
Macy Misa (Nicole Anderson):
Macy is JONAS's friend and Number One Super Fan. Macy tends to faint or hurt JONAS by accident when she gets near them. She often refers to each boy as "(first name) of JONAS." When she dated a boy (Randolph) who was not a JONAS, she tried to make him into a JONAS, even calling the boy "Nick" as a "nickname." She is very athletic and plays on a number of sports teams, and she also works in her mother's thrift store, called Misa's Pieces. Macy is a terrible singer but has decided not to stop. Macy's obsessed fangirl attitude about JONAS seems to be changing into a real friendship with the boys, especially Kevin, as Macy hasn't fainted or hurt the boys at all in recent episodes. Also, seen in the episode "Frantic Romantic" she and Stella attended a Hollywood Private Party with the boys. In a couple episodes, she's seen being hugged by the boys.
Episodes Macy Misa was absent in
"Groovy Movies" - Episode 2
"Complete Repeat" - Episode 9
"The Tale of the Haunted Firehouse" - Episode 17
Tom Lucas (John Ducey):
Joe, Nick, Kevin and Frankie's father and the manager of JONAS. He is sometimes the voice of reason when his boys have crushes on girls. In his downtime, he often plays hide and seek with Frankie. He is usually nervous when famous people interview the band.
Episodes John Ducey was absent in
Recurring
He is their younger brother. He is constantly trying to get in the JONAS spotlight. Frankie hopes to get a chance to perform with the band, but his brothers don't think that is likely. Frankie can move very fast and is an expert at hide-and-seek, and getting his way.
She is their mother. She's very proud of her sons, even when they mess up. She just wants to have a regular family, but admits that it may not be "normal" with children who are famous. She is mostly an off-screen character.
He is the bodyguard who escorts the band everywhere.
He is Stella's occasional love interest, which habitually makes Joe jealous.
A biology/drama teacher who loves Joe, Nick, and Kevin. Much to Joe's chagrin, she often gives them preferential treatment in school, sometimes causing tension between the boys and other students. Her niece is a huge JONAS fan.
Table of Recuring
This table includes characters who appear in more than 1 episode
Casting
Demi Lovato and Nicole Anderson also auditioned for the role of Stella, but were rejected in favor of Chelsea Staub.[23][24] According to Staub, her previous work with director Sean McNamara helped her land the role.[7] After the series plot changed, producers decided to create a best friend for Stella and offered Anderson, Staub's real life best friend, the role of Macy.[25]
JONAS was intended to star Kevin, Nick, and Joe Jonas, who lend their first names to their television counterparts. The role of Frankie Lucas was also created with Frankie Jonas in mind. In addition, Robert "Big Rob" Feggans, the Jonas Brother's real-life head of security, plays The Big Man, the JONAS bodyguard.[13]
Episodes
Main article: List of JONAS episodes
| Season | Ep # | First Airdate | Last Airdate |
| --- | --- | --- | --- |
| Season 1 | 21 | May 2, 2009 | 2010 |
Video game
Disney Interactive Studios has announced that a JONAS Nintendo DS game is set to be released on November 10, 2009.[26]
References
External links