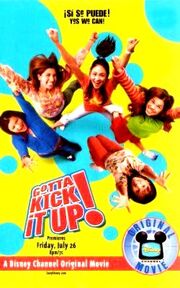 Gotta Kick It Up!
is a 2002 Disney Channel original movie. In the US, it was first aired on July 26, 2002. It is based on a true story of a middle school dance team.
Plot
A young executive turned teacher helps a group of young Latina girls find themselves and overcome societal obstacles through their dance troupe.
Cast
Camille Guaty – Daisy Salinas
America Ferrera – Yolanda "Yoli" Vargas
Jhoanna Flores – Alyssa Cortez
Suilma Rodriguez – Marisol
Sabrina Wiener – Esmeralda Reyna
Miguel Sandoval – Principal Zavala
Erik Alexander Gavica – Chuy
Susan Egan – Heather Bartlett
Elizabeth Sung – Ms. Kim
Gina Gallego – Mrs. Cortez
Gerry Del Sol – Mr. Cortez
Valente Rodriguez – Mr. Reyna
Anita Ortega – Mrs. Reyna
Yvonne Farrow – Lynell Elliott
Ulises Cuadra – Segura
References
External links
Ad blocker interference detected!
Wikia is a free-to-use site that makes money from advertising. We have a modified experience for viewers using ad blockers

Wikia is not accessible if you've made further modifications. Remove the custom ad blocker rule(s) and the page will load as expected.