F
ullmetal Alchemist: Brotherhood,
also titled 鋼の錬金術師: Fullmetal Alchemist in Japan, is the independent second anime adaptation developed by Bones based on the Fullmetal Alchemist manga by Hiromu Arakawa and is directed by Yasuhiro Irie and written by Hiroshi Ōnogi. It was first announced in the manga series' 20th tankōbon volume.1-6 The series premiered on April 5, 2009 on MBS-TBS' Sunday 5:00 pm JST anime timeblock, replacing Mobile Suit Gundam 00, and ran weekly until airing its final episode on July 4, 2010. Voice actors Romi Park and Rie Kugimiya reprised their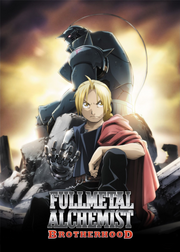 roles as main characters Edward and Alphonse Elric, respectively.The series is much more similar to the manga, unlike the 2003 anime.  On March 20, 2009, it was announced that the English title of the series was Fullmetal Alchemist: Brotherhood and that it would receive its English language premiere on Animax Asia, with Japanese audio and English subtitles, from April 10, 2009 at 8:30 p.m, five days after
On March 23rd 2018, the English dubbed version of the series began its run on Disney Channel.
Ad blocker interference detected!
Wikia is a free-to-use site that makes money from advertising. We have a modified experience for viewers using ad blockers

Wikia is not accessible if you've made further modifications. Remove the custom ad blocker rule(s) and the page will load as expected.