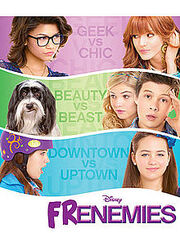 Frenemies is a 2012 television film and anthology based on the novel of the same name by Alexa Young premiered on Disney Channel. It features an ensemble cast of Bella Thorne, Zendaya, Stefanie Scott, Nick Robinson, and Mary Mouser. The film follows three pairs of friends that go from friends to enemies and back again. The film is to be directed by Daisy Mayer and written by Dava Savel, Wendy Weiner, and Jim Krieg. The Disney Channel Original Movie premiered on January 13, 2012 in the United States and Canada, and March 2, 2012 in the UK.
Plot
Halley Brandon and Avalon Greene are two girls who have a website called GeeklyChic. The girls tell three stories. The first story is about how a kid and a dog who are best friends become frenemies and how they become best friends again. The second story is about how two BFFs become total frenemies over a senior editor job. The last story is about two lookalikes (possibly twins) who swap lives with each other, like the Prince and the Pauper.
Main Cast
Ad blocker interference detected!
Wikia is a free-to-use site that makes money from advertising. We have a modified experience for viewers using ad blockers

Wikia is not accessible if you've made further modifications. Remove the custom ad blocker rule(s) and the page will load as expected.