Home
Talk

19
698pages on
this wiki
16,810 edits • 698 articles • 22 active users
Hey there, and Welcome. This is the all-new Disney Channel Wiki. After months of long work, it is finally ready! We do hope you stay and edit, which we welcome you to do. We have updated almost everything, and can't wait for you to help! Our Wiki mode allows you to edit, create articles, blogs, and more! You can tell about yourself on your userpage. Please create an account to start editing. Thanks!
Disney Channel Wikia The wiki about Disney Channel that anyone can edit! 698 articles articles since 2008! This wikia was founded by Pirakafreak24
Current admins are Chad012, Tatertat, DanBing, Junatina and Austin9393.
Please read the rules before you start editing!
Next on Disney Channel
Friday, March 7

8:00pm - JESSIE
"Snack Attack"- When Jessie notices a famous casting director in the park, she tries to impress him by volunteering to help his daughter befriend the Ross kids
8:30pm - Dog With A Blog
"I Want My Nikki Back, Nikki Back , Nikki Back" - When Tyler decides to try and get Nikki back as his girlfriend, Avery is hesitant to help him for fear of being caught between her friend and brother, but ultimately intervenes.
9:00pm - Fish Hooks
"Brothers of a Feather/I Have This Friend..."- "Brothers of a Feather" – Oscar and Milo are adopted by a mother bird and have the time of their lives, but when it's time to leave the nest, it's a long way down. "I Have This Friend..." – Shellsea reveals that she's having trouble finding a date, so her friends secretly plan to find her a man.
Sunday, March 9

8:00pm - Liv and Maddie
"Slump-A-Rooney"- Maddie and Willow are excited to try out for the school's varsity softball team, but Maddie, the catcher, realizes that Willow, the pitcher, is in a slump because she can't stop thinking about Joey.
8:30pm - I Didn't Do It
"If It Tastes Like A Brussel Sprout" - When Jasmine and Logan invent a spray that makes vegetables taste even more delicious, the five pals get a chance to put their entrepreneur skills to the test.
9:00pm - Austin & Ally
"Cupids & Cuties" - Trish is nervous about an upcoming visit from a boy she has a crush on and does not act like herself when he takes her out on their first date.
About Disney Channel
Disney Channel is an American basic cable and satellite television network, owned by the Disney-ABC Television Group division of The Walt Disney Company. It is under the direction of Disney-ABC Television Group President Anne Sweeney. The channel's headquarters is located on West Alameda Ave. in Burbank, California. Disney Channel International Networks, currently run by President Carolina Lightcap, is a global portfolio of more than 90 kid-driven, family inclusive entertainment channels and/or channel feeds available in over 160 countries and 30 languages. The platform brands are Disney Channel, Disney XD, Disney Junior, Disney Cinemagic, Hungama TV and Radio Disney.
Did You Know That...
The only commericals shown on Disney Channel are for Disney shows, movies and sponsors?
Only Joe Jonas auditioned for Camp Rock, but Disney decided to let Nick and Kevin in, too?
Two new shows involving twins are coming to Disney Channel. Liv and Maddie which already premiered in July and I Didn't Do It which is previewing January 17, 2014?
They will be a DCOM (Disney Channel Original Movie) called How To Build A Better Boy starring China Anne McClain and Kelli Berglund that will premiere in 2014?
Disney Channel is bring back a old game show called Win. Lose, or Draw which will be premiering late 2013?
Disney Channel now shows two Disney XD shows every Saturday night starting at 10PM?
Every Wednesday at midnight Disney Channel shows two old shows?
Zendaya and Spencer Boldman are going to star in the new DCOM movie Zapped premiering in 2014?
Jessie and Good Luck Charlie are the only current Disney Channel shows with the leading main character 18 or older (Jessie and Teddy)?
Austin & Ally are the only Disney show that the entire main cast is 18 or older?

Suggest more fun facts here.
Featured Content
Featured Show




Liv and Maddie tells the tales of teenage twins Liv and Maddie (Dove Cameron) and the Rooney family. When Liv, an actress returns from filming her hit tv show, Sing It Loud for 4 years. On the other hand, Maddie is currently the star player on the school's basketball team. When the twins reunite they realize that a lot can change in 4 years. They have to figure how to get through sticky situations and maintain their social status. At the same time. their younger brothers Joey (Joey Bragg) and Parker (Tenzing Trainor) are causing and their parents work at their school!

Featured Song




Pass Me By is a song performed by R5. The song's music video was featured on Disney Channel. The song was written by band members Riker & Rocky Lynch. The song was a featured single and is on the band's album, Louder.

Featured Artist




Dove Cameron (born January 14,1996) is an American actress and singer. She stars as Liv and Maddie in the Disney Channel Series, Liv and Maddie and starred as Kayla Morgan in Cloud 9. She performed five songs for Disney Channel such as Better in Stereo (Liv & Maddie Theme Song) and Future Sounds Like Us (Shake It Up: I <3 Dance Soundtrack). She also has a duet with Luke Benward on iTunes titled Cloud 9.

Featured Character




Avery Jennings is from Dog With A Blog. She is very smart and is known to stick her ground. She is currently in the 8th grade and has on crush on fellow 8th grader, Wes. Her best friend is Lindsay and they are known to say things in unison a lot. Avery is portrayed by G Hannelius.
Vote for the next featured Vote HERE!
Get the My Wikia App!
With Wikia's official flagship app, My Wikia, you can search for communities and add them to your home screen and read constantly evolving, deep content in a customizable format.
DOWNLOAD NOW FOR FREE!

Next New Thing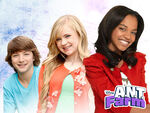 The rumors are true. Disney Channel's
A.N.T. Farm
is coming to end! We all saw the first preview after
Suite Life On Deck
's series finale.
"the new york experiANTs" - Everyone accompanies Zoltan to the opening of the new flagship Z-Store in NYC. Chyna connects with a street performer named Hudson, who puts on a tough guy persona to impress her. Meanwhile, Fletcher gets the opportunity to move to NY as an artist in residence at a museum. The series stars China Anne McClain, Sierra McCormick, Jake Short, Stefanie Scott, and formally Carlon Jeffery.
---
A.N.T. Farm Series Finale will premiere in...
March 21,2014 20:00:00 EST Please enable javascript on your browser.

Latest Blogs
Create blog post
Latest Blog Posts

Alright guys! Here it is! The first FlashBack Friday Theme is.....




'

I chose this theme because of the show recent ending and that it would a good fami…



Read more >




Hey guys! It's Tatertat here! 

So many of you guys are probably are wondering, what are flashback fridays? So here we go...




Basically, each Friday we e…



Read more >
See more >