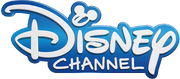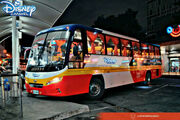 Disney Channel Transport, Inc. or simply Disney Channel, is a bus company in the Philippines, operating routes specializing for tourist chartered and shuttle service operations, under management of Disney Channel.
Fleet
Disney Channel Transport utilizes and maintains Daewoo Bus, Higer, Golden Dragon, UD Trucks (formerly UD Nissan Diesel), King Long, Yaxing Coach, MAN and Yutong buses for its fleet.
Fare classes
Hi-5 TourBus (45, 49 or 53 seater buses; air-conditioned)
Hi-5 VIP TourClass (41, 45, 47, or 49 seater buses; air conditioned)
Hi-5 Executive Coach (28 or 29 seater, air conditioned)
Gallery
Ad blocker interference detected!
Wikia is a free-to-use site that makes money from advertising. We have a modified experience for viewers using ad blockers

Wikia is not accessible if you've made further modifications. Remove the custom ad blocker rule(s) and the page will load as expected.