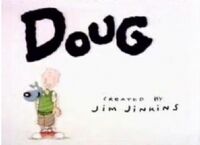 Doug is an American animated sitcom created by Jim Jinkins and co-produced by his studio, Jumbo Pictures (now known as Cartoon Pizza). It was, at a time, a Disney Channel running from 1996-1999.
Doug centers on the surreal and imaginative exploits of its title character, Douglas "Doug" Funnie, who experiences common predicaments while attending middle school. The series lampoons several topics, including puppy love, bullying, and rumors. Many episodes center around Doug's attempts to date his fellow classmate Patti Mayonnaise.
Characters
External Links
Ad blocker interference detected!
Wikia is a free-to-use site that makes money from advertising. We have a modified experience for viewers using ad blockers

Wikia is not accessible if you've made further modifications. Remove the custom ad blocker rule(s) and the page will load as expected.