Ad blocker interference detected!
Wikia is a free-to-use site that makes money from advertising. We have a modified experience for viewers using ad blockers

Wikia is not accessible if you've made further modifications. Remove the custom ad blocker rule(s) and the page will load as expected.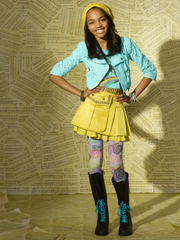 Chyna Parks
is a musical prodigy and a member of The A.N.T. Farm. She plays over 14 instruments, and is great singer. She is the main character of the series
A.N.T. Farm
. She is eleven years old, and her best friends are
Olive Doyle and
Fletcher Quimby
. She tries to fit in with the big kids but usually fails. The Queen of the School, Lexi Reed dislikes her and does not like trying to fit in so she bands the ANTS from almost every school activity because she is the School President. She is portrayed by
China Anne McClain
.
Bio
At age 2, Chyna could play music becoming a musical prodigy. Soon at age 11, she was invited to join the ANT Farm gifted program at her older brother's high school. Upon accepting, she met her soon to be best friends, Olive and Fletcher.
Chyna's interests include making jokes, the color red, and cute boys. Unlike Olive, Chyna isn't afraid of Lexi as much as her. Unlike some high schoolers, her father doesn't like her going to parties or hanging around boys. Her brother also often annoys her sometimes. And as shown, Chyna is looking hard to find a place where she feels she belongs.