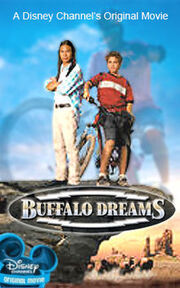 Buffalo Dreams is a 2005 Disney Channel Original Movie starring Reiley McClendon and directed by David Jackson. Like many Disney movies, it focuses on themes of friendship and triumph over adversity.
Set against the backdrop of New Mexico, the film follows a boy who moves because of his father's job and becomes involved with a group of teens attempting to preserve the buffalo and Navajo traditions. Along the way he makes friends and learns important lessons about life.
Despite being set in Montana, the filming was all done in Utah.
Cast
| Actor | Role |
| --- | --- |
| Reiley McClendon | Josh Townsend |
| Simon R. Baker | Thomas Blackhorse |
| Graham Greene | John Blackhorse |
| Tessa Vonn | Scout Blackhorse |
| Max Van Ville | Moon |
| Chris Hunter | Kyle |
| Adrienne Bailon | Domino |
| Geraldine Keams | Abuela Rose |
| Christopher Robin Miller | Virgil |
| George Newbern | Dr. Nick Townsend |
| Seth Packard | Wylie |
| Jane Sibbett | Blaine Townsend |
| Justin Stern | Luke |
| Chris White | JG |
Awards
In 2006 the film was nominated for two awards The Directors Guild of America award for Outstanding Directorial Achievement in Children's Programs for David Jackson and Young Artist Awards for Best Performance in a TV Movie, Miniseries or Special - Supporting Young Actress for Tessa Vonn.
External links
Ad blocker interference detected!
Wikia is a free-to-use site that makes money from advertising. We have a modified experience for viewers using ad blockers

Wikia is not accessible if you've made further modifications. Remove the custom ad blocker rule(s) and the page will load as expected.