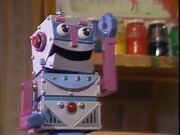 Bleep is a toy robot that appeared in
Toon In!
Appearance
Bleep is a squared grey robot headed like toy with a short small antenna on his head. He has a blue rectangle on his eyes and a pink nose and a puppet doll grey rectangular mouth. He has purple arms and blue claws and now has a grey square for a body with a round cutted half blue with yellow, red and green dots, blue strip, a red button and two sided grey triangles. Down there, you can see a triangular blue pyramid down to his legs and there is some pink trapezoid down to his legs and knees. He speaks in some funny voice when his speech freezes.
Personality
Bleep might be a communication and helpful when he is loyal and wrong. He is a tomboy that it is revealed that he can speak but his voice from the LP 1986 Christmas special The Christmas Toy made an appearance.
Trivia
Ad blocker interference detected!
Wikia is a free-to-use site that makes money from advertising. We have a modified experience for viewers using ad blockers

Wikia is not accessible if you've made further modifications. Remove the custom ad blocker rule(s) and the page will load as expected.