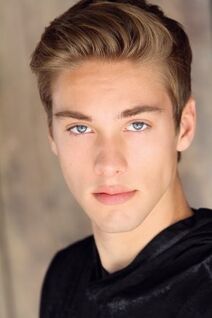 Austin North (born on July 30, 1996 in Cincinnati, Ohio) is an actor known for his role as Logan Watson in the Disney Channel series "I Didn't Do It."
Biography
Austin and his family relocated to Atlanta, Georgia and when he was 12 years old, he was discovered at a talent showcase.
He has appeared on television shows such as "Kickin' It," "A.N.T. Farm," "General Hospital" and "See Dad Run." He also appeared on "The Tonight Show with Jay Leno."
Austin also appeared in the Disney XD pilot "Kirby Buckets."
Filmography
Kickin' It (2011; 1 episode; guest-star): Ricky Weaver (episode "Ricky Weaver")
General Hospital (2012; 1 episode; uncredited role): Bodhi (episode 1.12497)
A.N.T. Farm (2012; 1 episode, guest-star): Holland (episode "MutANT Farm II")
See Dad Run (2013; 1 episode; guest-star): Dean (episode "See Dad Play Hard to Get")
Trivia
He is skilled in rollerblading, snowboarding, snow skiing, ice skating, golf, bowling, surfing, water skiing, soccer, football, skateboarding, basketball, swimming, billiards & playing the drums.
He appeared in commercials for Dell and a SEGA video game.
Ad blocker interference detected!
Wikia is a free-to-use site that makes money from advertising. We have a modified experience for viewers using ad blockers

Wikia is not accessible if you've made further modifications. Remove the custom ad blocker rule(s) and the page will load as expected.