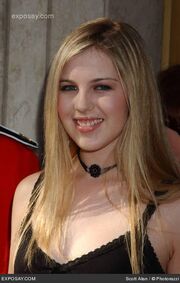 Ashlie Theresa Brillault (born on May 21, 1987 in San Francisco, California) is an American actress and lawyer. She is best known for her role as Kate Sanders on "Lizzie McGuire."
Biography
Ashlie was raised in Long Beach, California. She landed her first modeling job when she was only three years old. She modeled in print ads, fashion shows and was even a regular in Kmart's national advertising campaigns.
When she was six years old, Ashlie began taking acting classes at the Beverly Hills Acting School. She landed the role of Kate on "Lizzie McGuire" after nailing her first TV audition. She also appeared in "The Lizzie McGuire Movie" in 2003.
These days, Ashlie is now a criminal defense lawyer in Seal Beach, California. Ashlie Brillault is married to her husband Joe and they have a daughter. She graduated from Sturm College of Law.
Filmography
Television
Lizzie McGuire (2001-2004; recurring role): Katherine "Kate" Sanders
One On One (2003; 1 episode; guest-star appearance): Regina (episode "Keeping It")
Switched! (1 episode): Herself (episode "Ashlie and Dallas")
Films
The Lizzie McGuire Movie (2003): Katherine "Kate" Sanders
Trivia
Has two sisters named Jennie Brillault and Alisa Brillault. Alisha played Matt's classmate in one episode of Season 2 of "Lizzie McGuire".
Attended Millikan High School in Long Beach, California.
Graduated from the University of Denver, Sturm College of Law in May of 2014.
Her favorite episode of "Lizzie McGuire" is "Lizzie and Kate's Big Adventure" because the episode showed a side of Kate that nobody had ever seen before.
Is friends with Hilary Duff in real life. In real life Ashlie is nothing like Kate.
Involved with Ronald McDonald House, Long Beach Child Cancer Center, speaks at local high schools in connection with the DARE organization and serves as a board member for Kids with a Cause.
Role model is mother.
Ashlie Brillault has now retired from acting.
External Links